5 Quick Steps to Double Your Bedroom Space
5 Quick Steps to Double Your Bedroom Space
5 Quick Steps to Double Your Bedroom Space
Live large in a small space...
We all love the stunning bedrooms we see in the magazines (who doesn't?), but we know that in reality, most of us don't have bedroom spaces straight out of Architectural Digest. Fear not. A small bedroom can be a great space if you embrace a design-focused approach. Get all of the style you're looking for in a small bedroom space without the sacrifices. How? These five quick steps are easy stepping stones for making the most of your square footage. Read on!
---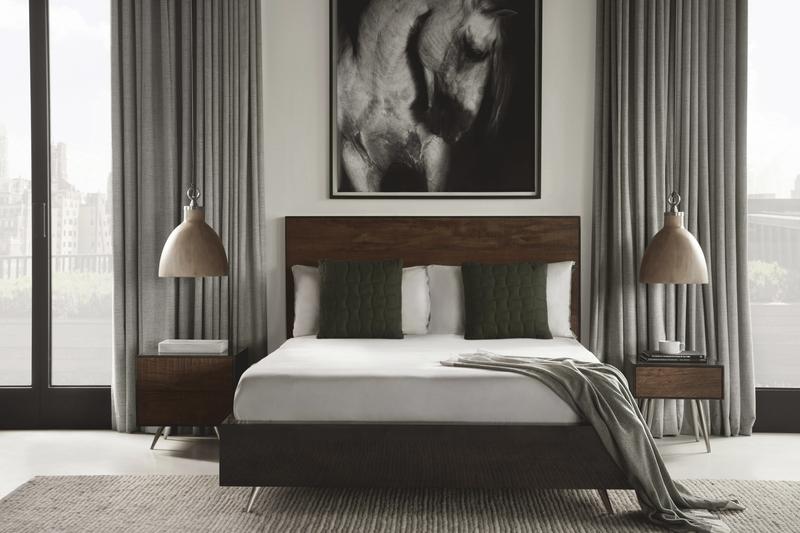 ---
1. Lay Out Your Furniture… Before You Buy
The biggest mistake we see with small rooms is the size of the furniture. Reframe your thought process: your bedroom isn't too small, your furniture is too big! Carefully measure out the dimensions of your space (some tips on that here!), and draw out where the main pieces of furniture are going to be placed: the bed and the storage options are key.
Does your room get eaten up by a standard 54in x 75in queen bed? If you're a single sleeper, you can opt for a full and still have plenty of room for a good night's rest. Think about where you'd place a dresser or nightstands, and then shop for pieces that fit! If you're downsizing, it may be necessary to buy new furniture that fits better. Don't try to cram in pieces that simply don't work! We've curated a city living lookbook filled with small space furniture picks.
Of course, measuring and laying out your space can sometimes be a daunting task, and you may not have the time. Visit us at Kathy Kuo Designs, and our team will happily do the work for you! When you work with us, all of the design schematics and 3D renderings you receive are drawn to scale, so you'll see exactly how every piece will fit into your room before you buy! Plus, our expert team of designers have the professional background to find design solutions for small spaces, tight corners, and strange angles.
---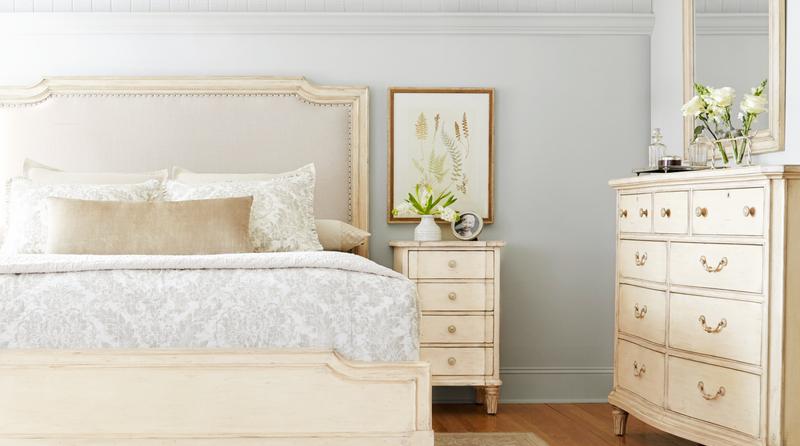 ---
2. Use Light and Bright Hues
Dark colors absorb light, which will make a bedroom feel smaller and more constricted. Lighter colors on the other hand will reflect your room's natural light, making your bedroom seem brighter and roomier. Keep this in mind when painting your small bedroom space. Light colors will also help the space look clean and are known to better your mood! This design tip is applicable to more than just paint colors. You should also opt for lighter hues in your upholstery, bedding, and wood finishes!
Here are a few of our favorite light and bright bedding options. Check out our full assortment here.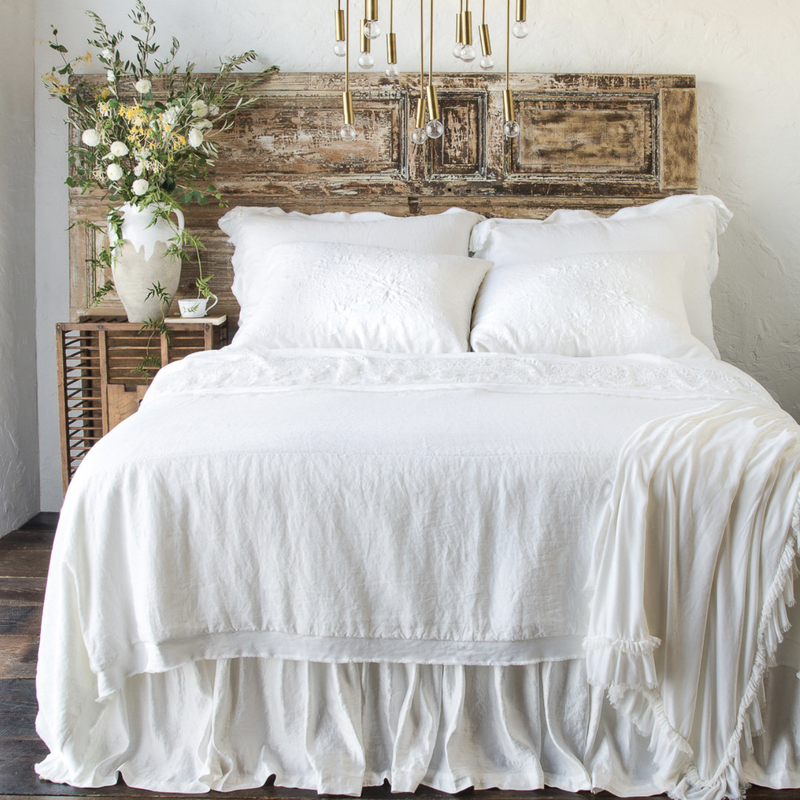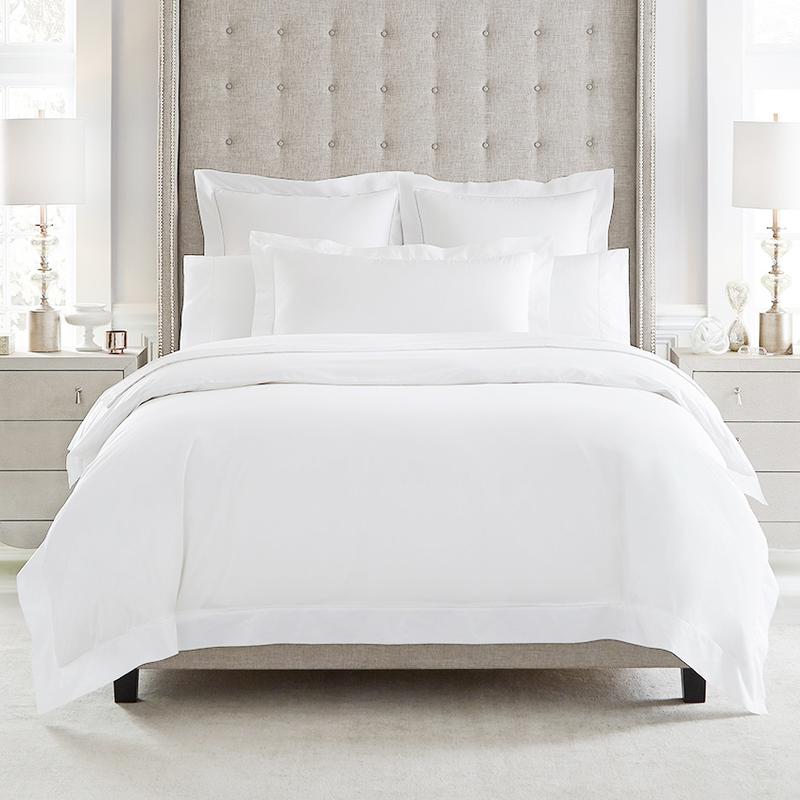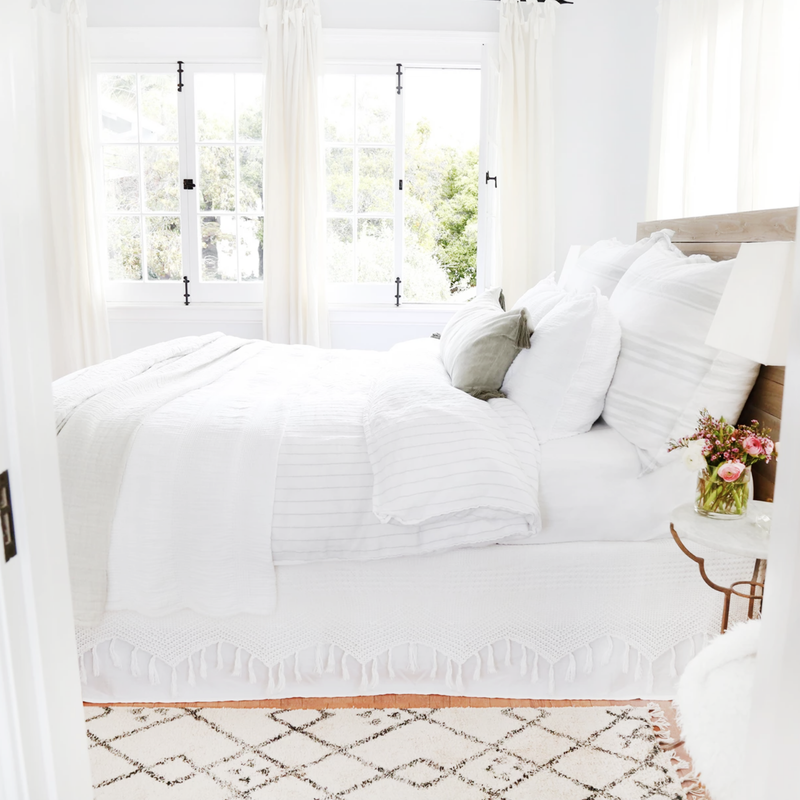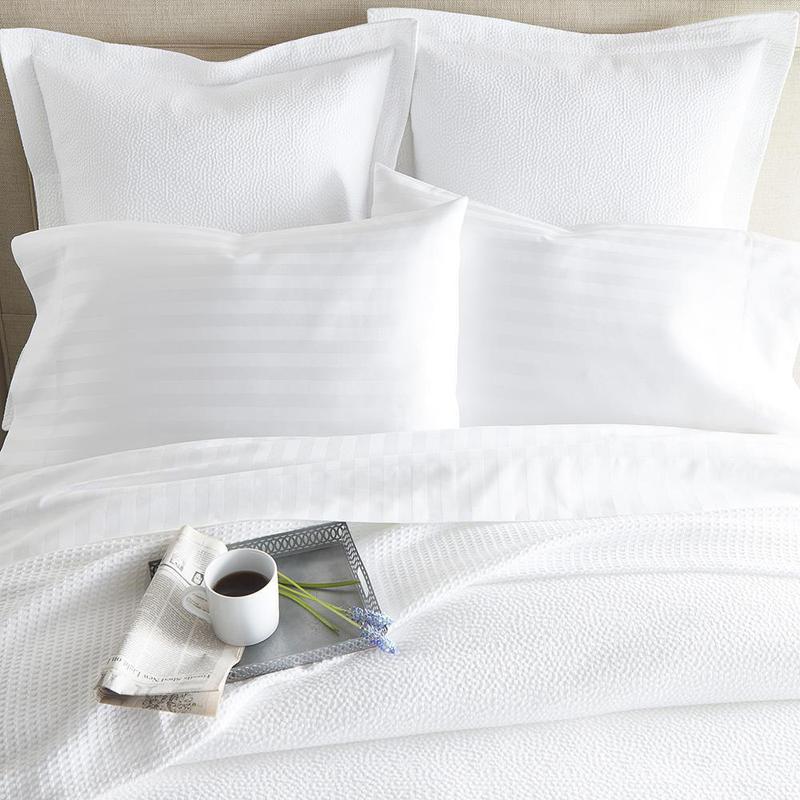 ---
3. Choose Your Bed Wisely
Naturally, the bed is the most important piece of furniture in the bedroom. If you have ample closet and storage space, choose a platform bed like our Sofer Modern Classic Minimalist Plush Grey Platform Bed or our Larson Modern Classic Variegated Wood Platform Bed. With the bed lower to the ground, you'll create a greater sense of height that'll make your room look spacious and more open.
If you're lacking in storage options, choose a bed with built-in storage solutions, or choose a bed like our Becky Industrial Loft Solid Peroba Wood and Black Iron Beam Bed that's raised to allow for storage solutions beneath the frame. As we mentioned earlier, for small rooms you want to carefully consider the size and construction of your bed. Maybe a full size bed is more compatible with your space than a queen. Lithe beds built from iron or other metals (such as our Corse French Country Bed) are also great options because they cut down the bulk you'll see in wooden and upholstered beds.
These bed picks below read luxury, but they also fit in small spaces! View our entire bed collection here.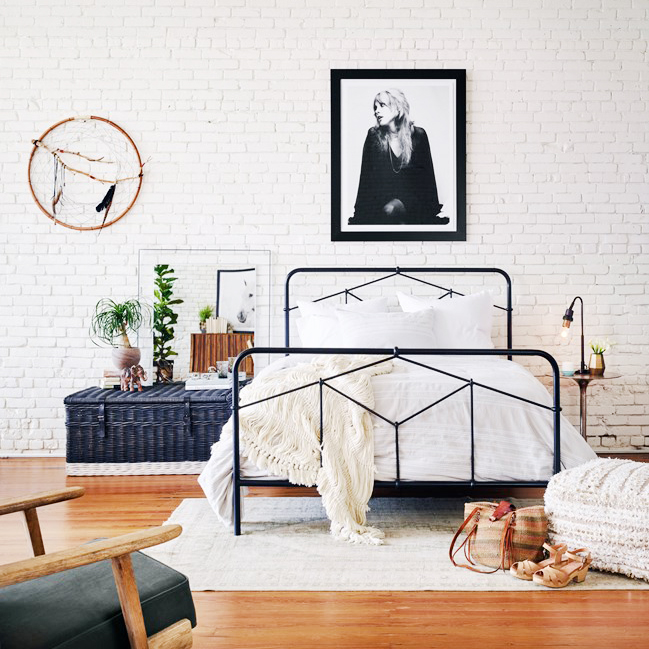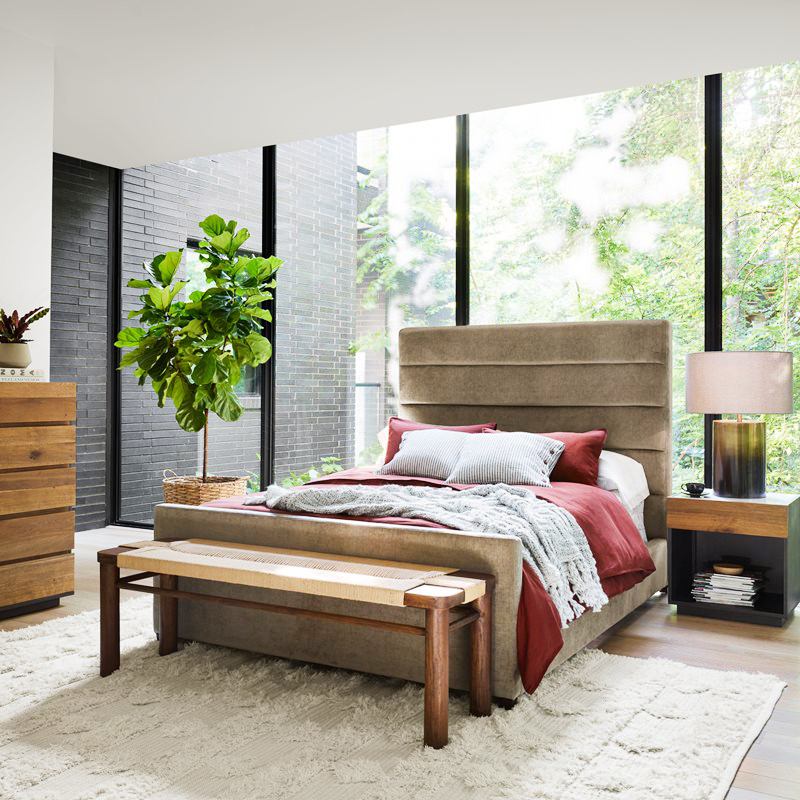 ---
4. Maximize Your Bedroom Storage and Floor Space
In a small bedroom, floorspace and tabletop space are prime real estate, so make sure to use it wisely! Skip floor lamps. One flush mount or small chandelier should be plenty of ambient lighting in a small room. Then add task lighting near the bedside by installing sconces instead of placing table lamps on bedside tables like you may see in a traditional bedroom layout. With all of that saved tabletop space, you'll have a place for books, journals, decor, anything else you keep on your nightstand. And you don't always need two! If only one nightstand fits near the bed, play with the asymmetry by adding a small bookshelf or desk on the opposing side.
Carefully select dressers and nightstands that maximize storage without getting too wide or too bulk. At Kathy Kuo Home, you can use our handy filters on the left side of the page while browsing to find a piece that matches the dimension or shelving requirements that you need. If you have a closet, you can also try to find a dresser that can be stored within to maximize the floorspace.
Below are a few adorable nightstands fit for small spaces. Need a different size? View our full assortment here.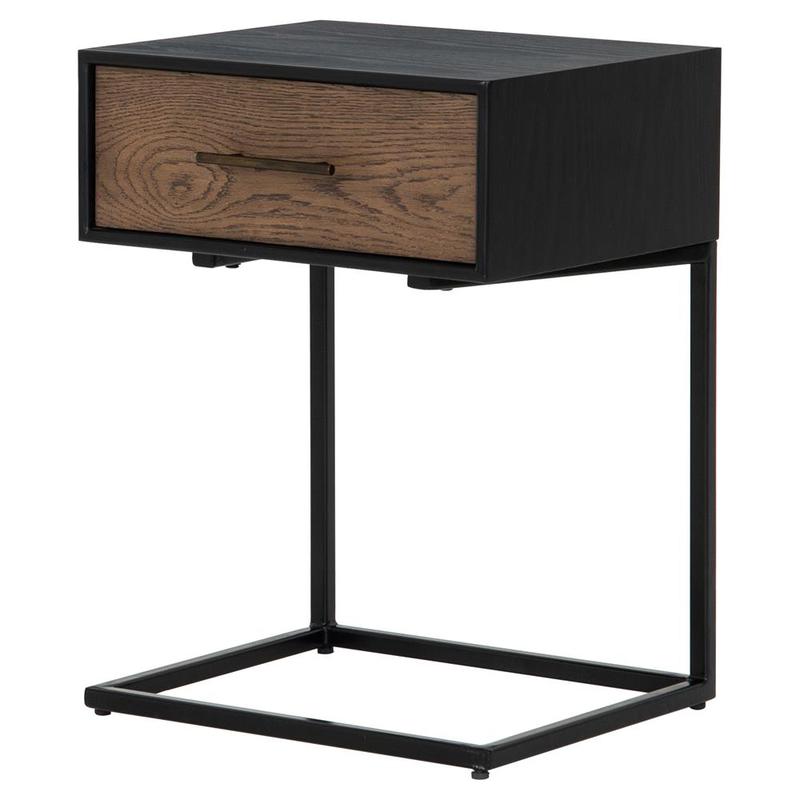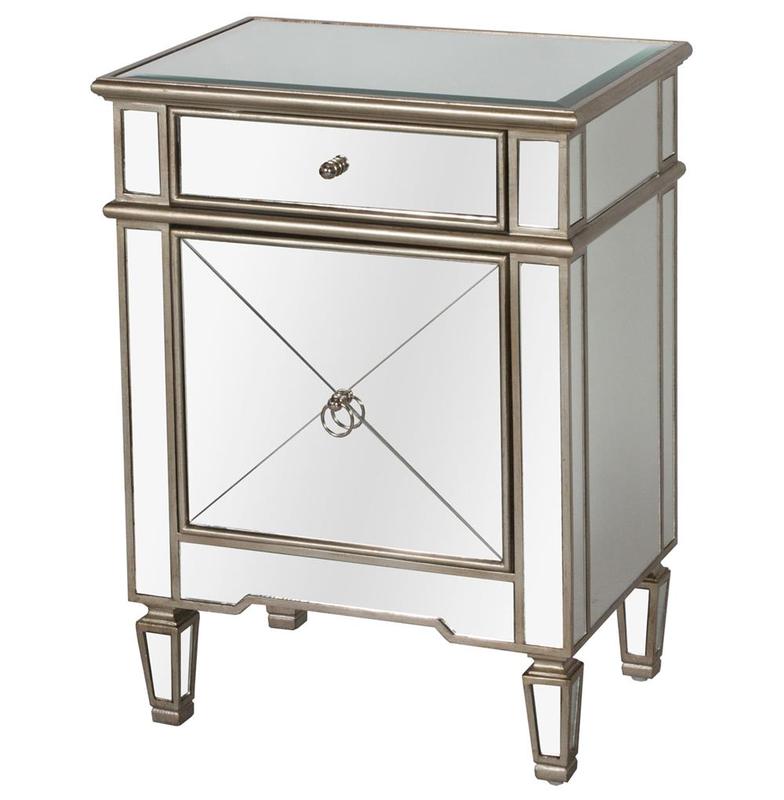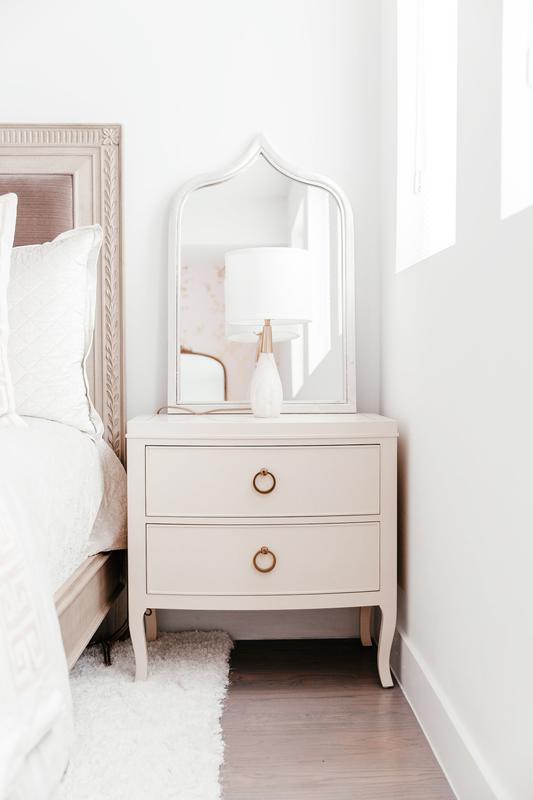 ---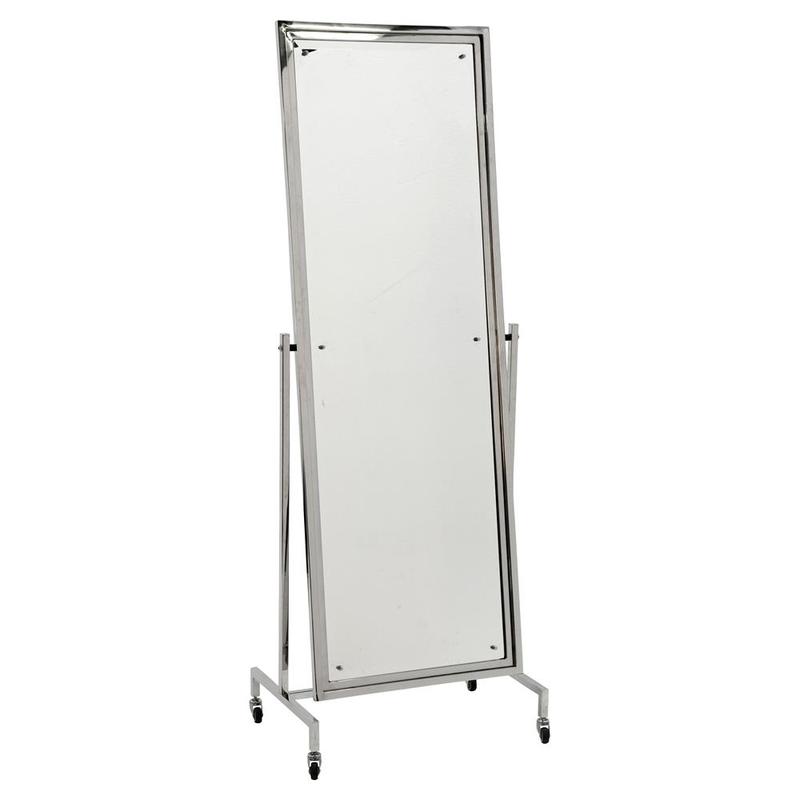 ---
5. A Big Mirror Changes Your Point of View
While a small bedroom may not have the space for a vanity, a large mirror is a must in a small room. It'll reflect any natural light and visually open up the space. Above the dresser is common placement for a large round mirror (our Dawes industrial round mirror is an all-time KKH bestseller). However, if you have the space for it, a floor mirror propped against the wall can almost double appearance of your space!
Catch just a glimpse of our bestselling mirrors below. View the full collection here.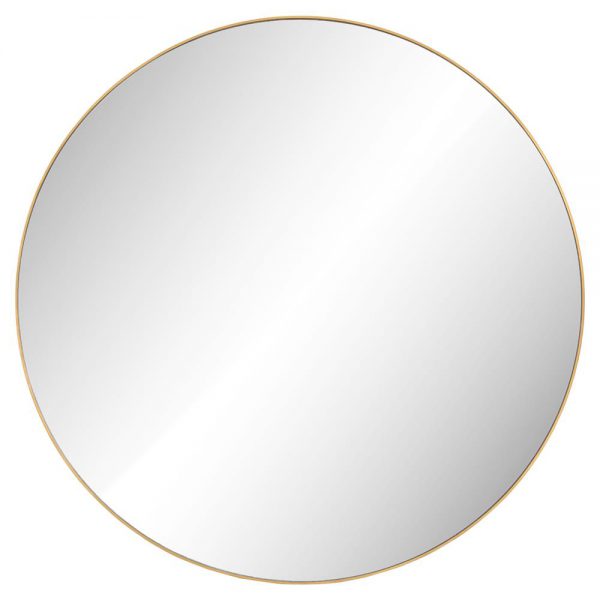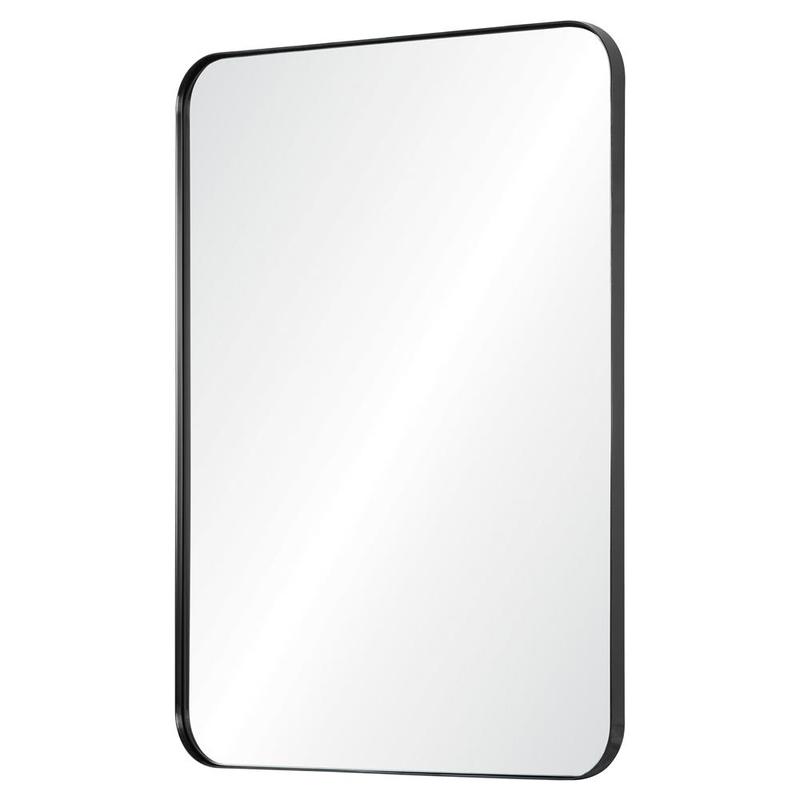 ---
Did you try this out in your space? Comment below which tip helped you out!