Make Your Bathroom Pop with Clever Tips from Andrea West
Make Your Bathroom Pop with Clever Tips from Andrea West
Make Your Bathroom Pop with Clever Tips from Andrea West
All photos in this article were provided and designed by Andrea West and Andrea West Designs.
Do you ever wish you could just live in your bathroom all day? It may sound strange, but after you have a look at these deep soaking tubs and vibrant tile designs, you'll understand where I'm coming from. Today on the blog, I had the great pleasure of chatting with award-winning interior designer Andrea West.After reading this interview, you may want to call her the queen of bathroom renovations. Learn her top tips and tricks on how to design your bathroom to look like her renowned, statement-making bathroom masterpieces. Here's what Andrea had to say!
---
Kathy Kuo: Hi Andrea! Can you tell me a little about your background and how you got interested in design?
Andrea West: Hi Kathy! Well growing up, I was always constantly rearranging my room and helping my mom and grandma decorating their homes. As soon as I learned Interior Design was a profession, I job shadowed a local designer and knew it was the career for me from the get-go. I immediately applied for design school, and worked as a builder part time while putting myself through the design program. I love that interior design is the perfect balance of technical skills with artistic creativity. Most importantly, it also enables me to work closely with people and have the opportunity to build lifelong relationships.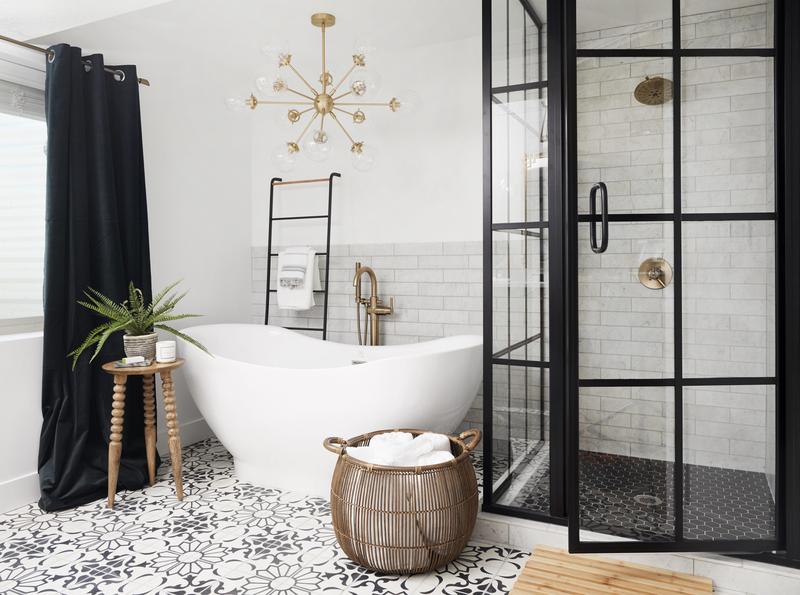 KK: When did you first launch/start Andrea West Interior Design? Where are you based? And where do you offer your design services?
AW: I officially launched Andrea West Design three years ago when my husband and I moved for grad school. Because we were constantly on the move, I created a way to design and work with clients that didn't depend on location. While we are based out of Utah, we have structured our design process so that we can service anyone that needs design help both local and long distance!
KK: How would you describe your design style?
AW: We are known for our unique mixture of design styles, with taking clean contemporary lines and softening them with statement pieces and lots of color and personality. I love using high contrast and edgy pieces and of course mixing metals!